This event is sold out. Join the waitlist!
Join Hannah for an afternoon of movement and meditation therapy for the mind, body and soul.
Hannah Balint will guide you through a part-yoga and part-aerial yoga practice with a concentration on the stillness of winter. Just as nature enters a cycle of renewal, growth and expansion - so does the energy within us.

In traditional Chinese medicine, water is the energy of winter and the water element represents the kidney and bladder meridians (energy channels). When we release the flow of chi (energy) that is stuck in these two meridians we gain greater willpower, a sense of awe and can more easily move into a state of flow.

In this 2 hour workshop Hannah will also guide you through a floating mediation and musical savasana, with live hang drum. You will leave feeling like your spine has grown, you have more oxygen in your veins and your whole being has been nurtured.

This workshop is for anyone and everyone who is in need for some self care and wants to work with the natural waves of nature. No aerial, yoga or meditation experience required. Wear comfy layers to stay warm in times of stillness.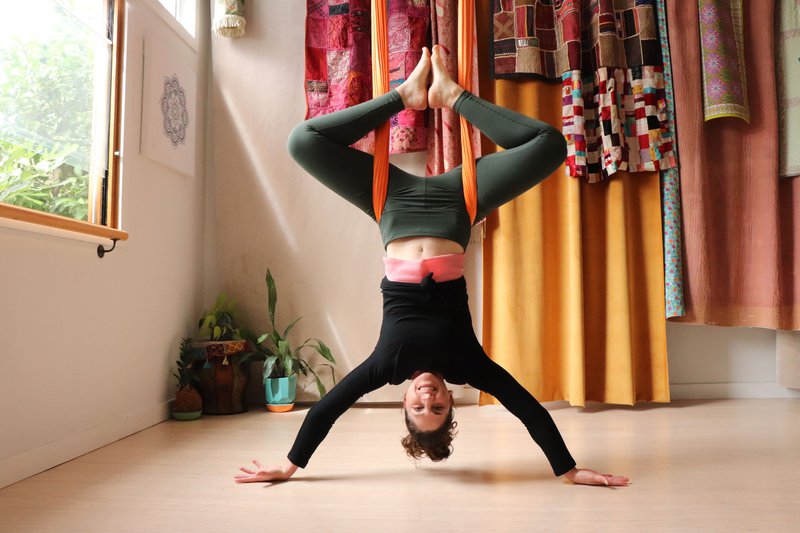 "Hannah's Nurture and Renew Workshop was incredible - nourishing for the body and soul and full of goodness. The meditation was so special and complemented beautifully with the restorative yoga. I would recommend this workshop to anyone who wants to take some time out and just relax....Hannah is the perfect guide to help you get there!" - Jas Chawla
"It was the first time I had used a hammock when I joined Hannah for her Nurture and Renew workshop. What fun, but also what amazing benefits I felt right away. Hannah's gentle but supportive way made me feel so comfortable and the moment she played her Hang drum for the meditation I was in heaven." - Fiona West 
About Hannah Balint
Hannah Balint has over 9 years experience of teaching yoga, aerial yoga and mindfulness practices in Australia, Asia and Europe. She recently completed 170 hours of Aerial Therapeutics Teacher Training with Master teacher trainer Renae Stevens. 
Hannah believes that mindful movement is a compliment to everything in life and helps harness a sense of body and mind awareness which enables us to be more connected to ourselves and to others. She encourages her students to make movement and mindfulness their own experience and invites them to explore and observe their inner wisdom with an open mind.