This foundation course will provide an informed theoretical understanding of the mental and physical health benefits of the Aerial Hammock, the neurobiology of trauma and pain, and the role of creativity and flow-state experiences in healing.
AERIAL YOGA THERAPEUTICS FOUNDATION COURSE
This course is designed for professionals in the fields of physical health, mental health and movement education seeking to harness the therapeutic power of the aerial hammock apparatus into their existing scope of practice. This 20hr course explores the neurobiological understandings of trauma and pain, followed by an introduction to the therapeutic framework underpinning the complete 150hr Applied Aerial Yoga Therapeutics Postgraduate Program. Over the duration of the course, participants will have the opportunity to gain an experiential perspective on the unique healing qualities of the aerial hammock when applied within a multi-modal approach.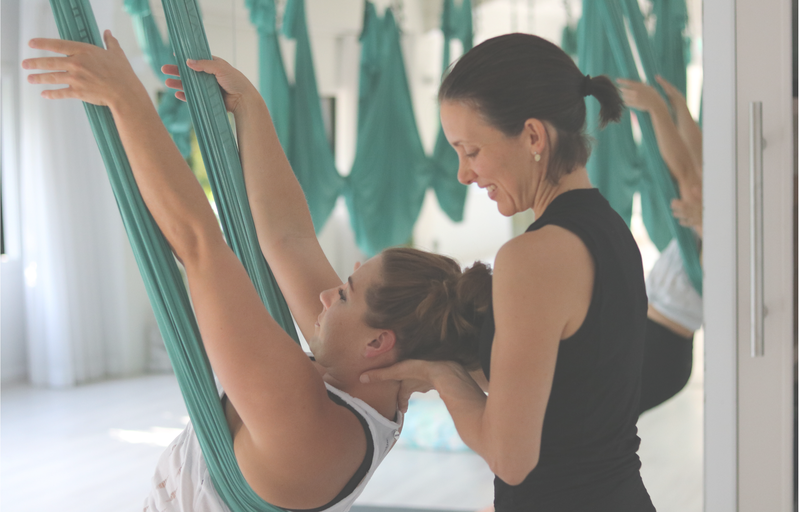 What is Aerial Yoga Therapeutics?
Aerial Yoga Therapeutics utilises the aerial hammock apparatus to facilitate therapeutic movement that aligns with progressive exercise-based rehabilitation and trauma-informed practice. The aerial hammock is a sensory medium that enhances neural integration and offers the restorative benefits of zero-compression inversions, incorporating joint and viscera decompression while developing 3-dimensional spatial awareness. It holds a unique ability to induce the relaxation response by releasing respiratory constriction and providing somatic experiences of being supported, rocked and 'cradled' that rebuild a sense of trust in one's body, relationship and environment. The therapeutic benefits of this body-orientated intervention are quickly being adapted into innovative clinical exercise based physiotherapy, rehabilitation practices and mental health settings to address a range of conditions and enhance recovery, empowerment and well-being.

APPLIED AERIAL YOGA THERAPEUTICS POSTGRADUATE PROGRAM
The full 150hr PostGraduate training requires participants to complete 3 educational components:
*20hr Foundation Course delivered in these locations between Jan – May 2020:
*20 week Online theoretical modules: Commencing May 1st, 2020
*10 Day intensive practical modules: Commencing Sept 18 -27, 2020
Bend&Fly Studio, Brisbane.
SAVE $360 when booking both FOUNDATION & POST-GRADUATE Programs
About Renae Stevens
Polestar Studio Rehab Instructor
Antigravity Master Instructor
Franklin Method Educator
Senior Yoga Teacher
Registered Yoga Therapist
Registered Mental Health professional (Art Therapy)
Renae holds a master's degree in Mental Health and is a registered Art Therapist experienced in trauma recovery. Renae is recognized by Yoga Australia as a Senior Yoga Teacher with 20 years of teaching experience. Her foundational years of study involved completing a full-time 3-year training specialized in Yoga Therapy at the Yoga Arts Academy in Melbourne, Circus Arts training in Beijing and Physiotherapy foundation studies in anatomy and physiology at the University of Queensland.
Renae has continued to diversify her skills in the movement healing arts over the last decade and is also certified as an AntiGravity Master Instructor trainer, Polestar Pilates Studio Rehab instructor and Franklin Method Movement Educator.
Renae is a passionate advocate on the benefits of a multimodal therapeutic approach combining the creative and movement arts therapies and seeks to share these powerful tools with those interesting in healing themselves and others.