Media
We love talking about yoga!
Read on to discover the various podcasts, print and online articles that we have contributed to.
You can also check out our own creations:
The Flow Artists Podcast where we speak to guests from Australia and around the world exploring how yoga teachers, artists and activists find their flow and share it with the world.
Thrive Northside a website created to help support and celebrate local businesses with a focus on community, diversity and sustainability.
Podcasts
with Dr. Nancy Wong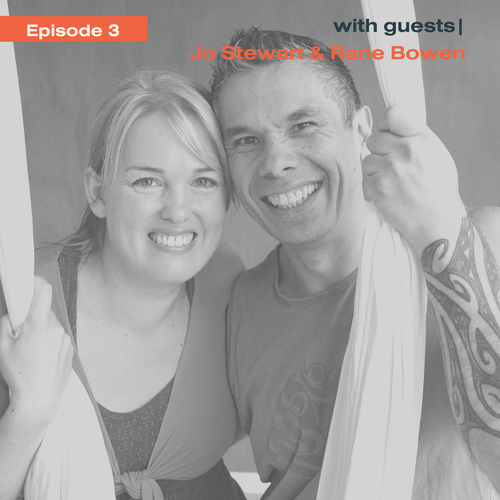 Sharing yoga authentically in a modern world: aerial yoga and podcasting
Yoga is so much more than a movement practice. But in the wellness world where yoga has been overly commodified... how do we share it authentically whilst respecting its roots?
In this episode I speak with not one, but two guests - Jo Stewart and Rane Bowen about their experience as the studio owners of Garden of Yoga. Their studio shares uplifting and supportive movement and meditation including pilates, aerial yoga and yin yoga. They're also the creators of The Flow Artists Podcast, which celebrates movement and meditation artists around the world.
with Chara Caruthers and Maria Kirsten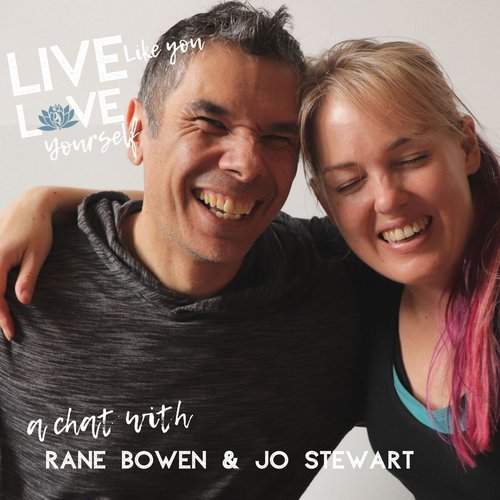 Episode 29: Flowing through life with joy, with Rane Bowen & Jo Stewart - The Flow Artists
What is it about conversation that changes us and the world around us? Is there a meditative quality to discussion that has the potential to shift aspects of our character and relationships that might not otherwise be noticed or moved? Our chat with Rane Bowen and Jo Stewart, hosts of The Flow Artists podcast shed some internal and external light on these questions!  It was an opportunity to dive deeper into how it feels to speak out loud about the things that are important and sometimes unknown, and how talking, like yoga, has the power to connect, inspire and enrich us in ways we might not always consider.
Listen and read the show notes here
With Cora Geroux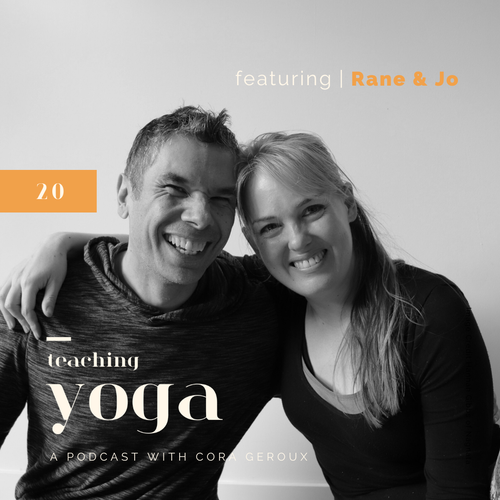 On today's show I speak with Rane Bowen & Jo Stewart of The Flow Artists Podcast. Jo & Rane also operate Garden Of Yoga, and I was really excited to speak with them because I think they have responded to the changes in our industry super quickly and intelligently while retaining their values. 
If you haven't listened to the flow artists podcast before I highly recommend it - Rane & Jo have on really incredible guests, and cover many similar topics like inclusivity, accessibility and diversity. 
Listen and read the show notes here
With Shannon Crow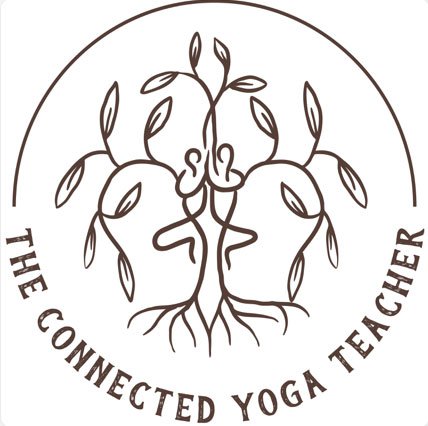 How to Build a Home Studio with Jo Stewart and Rane Bowen
Have you thought of building a home-based studio? What does it really take to get a home yoga studio up and running? What are the challenges you might face, and the biggest pros? Jo Stewart and Rane Bowen are yoga teachers who not only had a home studio, but also built a new one, and on this episode, they reveal the nitty, gritty details of what it takes.
Listen and read the show notes here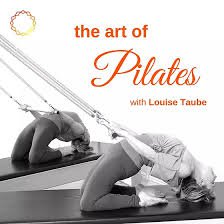 With Louise Taube
In this little podcast I talk to Jo Stewart about Yoga, Pilates, and Aerial Yoga/Pilates.
We discuss the creative process of designing and delivering a movement class, her new studio Garden of Yoga, and core philosophy. As well as her podcast Flow Artists and her business buddy and life partner Rane Bowen who has overcome stomach cancer.
Listen and read the show notes here
Print & Online Articles
By Sarah Ezrin for Healthline
While many aerial yoga classes have an acrobatic element, a growing number of classes and teachers are also using the aerial silks much more therapeutically.
Jo Stewart, the co-owner of Garden of Yoga, a Melbourne-based studio offering a wide range of aerial yoga classes, is a huge proponent of using the aerial silks in a more therapeutic way.
As she says, "the versatility and support of the fabric allow people to access new movements. It can also reduce the load on wrists and knees, which can sometimes limit mobility in a floor-based practice."
For people with knee issues, getting to the floor can be challenging. But, Stewart says, "the aerial fabric essentially brings the floor up to them."
Darebin Community News, Summer 2021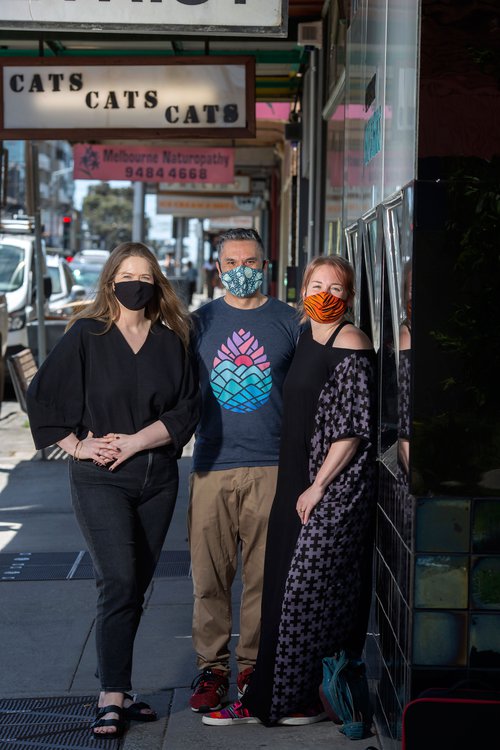 When Northcote yoga studio owners Jo Stewart and Rane Bowen closed their doors to customers early in 2020 during the lockdown, they felt a loss not only in income but also of community. "Walking down High Street during the lockdown, with all the shops closed, it felt totally desolate," Jo said. The husband and wife team transitioned their business to a digital platform to enable them to continue to deliver some of their classes online. "Rane is also a web developer so we were fortunate to have the skills to transform our business, but we also felt that we wanted to do more to help other small businesses during this really tough time, to help them keep connected with community," Jo said.
By Jo Stewart for Australian Yoga Journal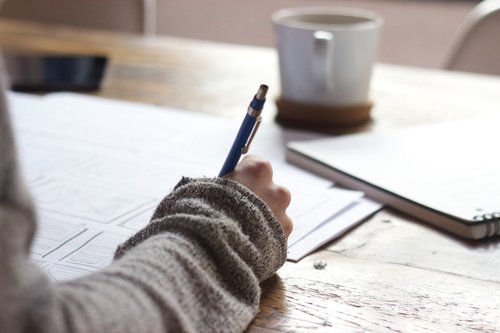 Writing a grant application for your Yoga Business can be daunting – but don't let that put you off applying and getting the support you need for your yoga business. Through successfully applying for two business resilience grants through our local council, we were able to build an online video library for our studio Garden of Yoga and launch Thrive Northside – a new website created to celebrate and support local businesses.  I had a lot of questions along the way though – grant writing isn't usually part of Yoga Teacher Training!
Read the original Thrive Northside article here
Compiled by Jesal Parihk and Sophie Griffiths
Rane Bowen
Melbourne, Australia
Rane Bowen has a passion for the more peaceful aspects of yoga. Though he's no stranger to a strong flow or an arm balance, his passion for meditation and gentle yoga deepened when he was diagnosed with stomach cancer (he's been living without a stomach for the past four years). Today, he co-owns Garden of Yoga with his wife Jo Stewart. Garden of Yoga is a yoga studio that includes accessible and inclusive aerial yoga, aerial yoga therapeutics, gentle yoga, nurturing yoga and pilates and other down-regulating offerings among its programs.
Read more and view the full list here
The Yoga Lunchbox 2016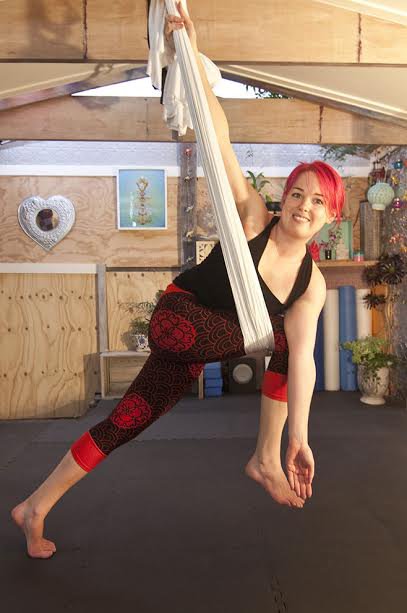 Jo Stewart
How do you live your yoga?
Yoga has always helped me through the 'everyday' emotional ups and downs of work stress, relationship issues and general challenges of being human. But it wasn't until my husband was diagnosed with stomach cancer last year, and we were then told the cancer had spread to his lung and was terminal, that I really felt some of the deeper layers of it's teachings.
Read more and see the full list here
The Yoga Lunchbox 2017
Jo Stewart
A quick google search will turn up all kinds of yoga hybrids—think Bungee Yoga, Antigravity Aerial Yoga, HIIT Yoga, Beer Yoga, Vinyasa + Vino, Doga, Meowga, and Goat Yoga and these are just a small sample of the pun-tastic world of hybridised yoga.
While I might wonder how yogic some of these combinations actually are, my own classes could be on that list. I've also been to, and thoroughly enjoyed, hula hoop yoga and SUP yoga workshops at festivals. I've taught a 'Pilates for Yogis' class and built my own aerial yoga studio. I often find myself wondering how to best navigate this hybrid realm.
I check my ego when I roll my eyes at Beer Yoga or when I internally cringe at being bundled up in YogaDork's critique of how 'increasingly gimmicky and bells and tassels and whistles and feathers-laden the yoga world has become essentially a carnival.''
The Yoga Lunchbox 2017
Jo Stewart
I discovered yoga when I was around 18. Although I enjoyed swimming while I was in school, I found sport boring and pointless – I wasn't competitive – why bother chasing a ball around, especially when I wasn't that good at it?
It was all goal orientated,  run faster, beat the other team and that didn't appeal to me.
And like any teenager I was surrounded by media telling women to look a certain way – again it was all about an external goal.
The Yoga Lunchbox 2017
Jo Stewart
One of the greatest challenges facing the yoga community is a lack of diversity and accessibility. Some of the members of the wider community who are facing the most isolation and stress in their daily lives have the least access to these teachings.
Yoga isn't just for young, fit, affluent white women, yet they are who we see in yoga magazines, online and are the majority in most of the studio classes I attend.
I'm lucky enough to teach yoga and pilates as part of a free exercise program that my local council organises. I see much more diversity in those classes, especially older people, long term unemployed and people who have found the class through community mental health services.
The overwhelming feedback I get is how grateful people are for these classes. They love that they get the chance to practice gentle strengthening movements and learn some tools to help their minds and bodies relax.