Setting Up Your Home Space for Online Yoga
While it's possible to practice yoga anywhere, having an inspiring place can really help to motivate you to get on your mat - and keep the good vibes flowing once you are there.
Let's face it, nothing takes the shine of your yoga glow like cracking your shins on the coffee table or bumping into the lamp - I know how that feels!
If you are doing an online yoga class there are a couple of extra considerations - your internet connection and being able to see the screen. You might also find yourself practicing in a shared space like the living room rather than a quieter space like your bedroom or garden.
Back in the days when our studio was a converted garage with no wifi our tiny, colourful lounge room was my go-to space for an online yoga class. You've seen the before shot - now here are my tips for minimising the negatives and setting up your space for the best online yoga experience possible!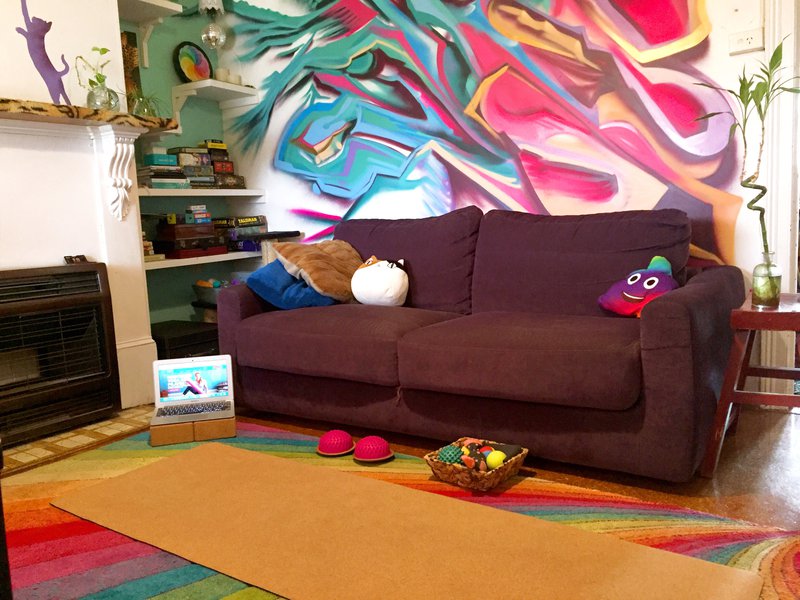 Check the Wifi
If it's a live online yoga class, you want to be in the location where you get the most bars and you might want to request that friends or family hold off on the online gaming or netflix watching until after your class. It could also be a good time to respectfully request that they don't wander through your practice for the next hour or so - or if that seems a bit harsh - see if they want to do some yoga with you!
Declutter and Reconfigure your Space
If this is a shared space this might be a quick rearrange before class. However you might find out that everyone likes it better that way. Creating a calm open space to practice can help the everyday flow of traffic through a room. If there are chairs that no one sits on, or a table that everyone bumps into this could be the perfect opportunity to create a more function and harmonious arrangement.
Vacuum and tidy up - when you are low to the ground you see everything and who wants to take a deep full breath and take in a whole lot of dust?
However, this one can go both ways - don't get diverted from your online yoga practice because your space isn't perfectly tidy - if you only have a limited time to practice, don't waste it doing housework.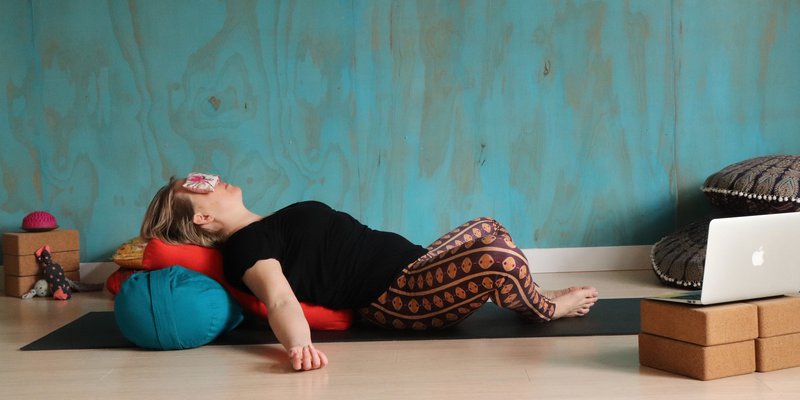 Technology
Lighting can make such a difference to the mood - no one wants a bright overhead light shining in their eyes during savasana! If you don't have an ambient lighting option in your practice space, it might be worth bringing in a smaller lamp from another room.
For a live online yoga class, place your screen where you can see it easily - and if it's a zoom live online yoga class - where the teacher can see you. The last thing you want is a sore neck from having to twist your head around to see what is happening throughout the class!
If it's a pilates or yin online yoga class close up and landscape angle, aligned with the long edge of your mat works best. If it's a vinyasa class with lots of standing poses, go further away and aligned with the short edge of the mat could be the way to go. Some of my students mirror their phones to their TVs which is a great way to go from a tiny screen to a bigger one for your online yoga class!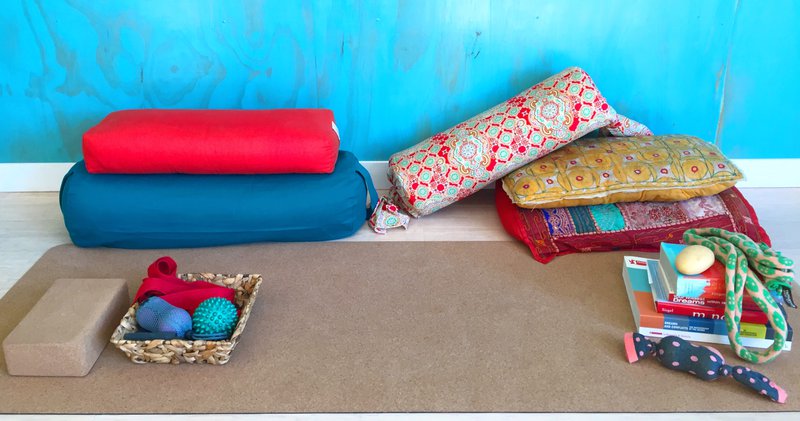 Props
I love using bolsters, blocks and self myofascial release balls to make yoga practice extra nurturing. You can easily swap in things you already have at home though - a scarf makes a great yoga strap, you can use books as blocks and pillows for a bolster. Just pop two balls in a sock to make a myofascial release peanut or even use a potato instead of a spiky ball.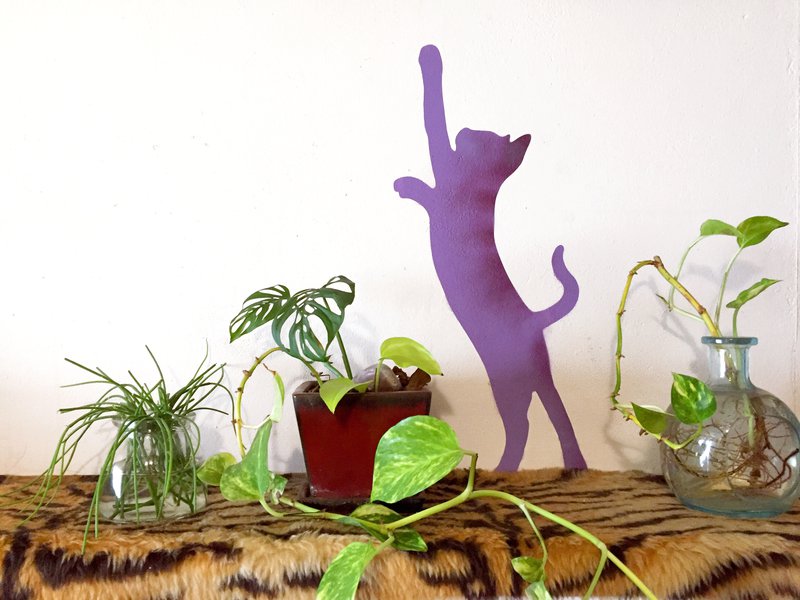 Plants
This is a big one for me, having some living, growing plants in my space makes such a difference! Many low light indoor plants also help to filter toxins out of the air which is a bonus. However, if you don't get enough natural light in your space to keep a little plant friend alive snipping a couple of stems off and placing them in water can be a great option. I've kept plants alive for years in a dim corner with this approach - and it's not as heart breaking if they don't make it, you can just snip off a couple more clippings from a larger plant and start again.
Pothos, monsteria, succulents and any plants you can propagate in water all love this method, and you might be surprised at how they end up actually thriving rather than just surviving. All the plants in the square pot started out as little cuttings in dark places.
Many of the things that help get the good vibes flowing in your yoga space, enhance your experience off the mat too. A functional layout with room to move, lighting options, lush plants and a good tidy up can really change the energy of your space - which is even more important right now!
Ready to Get Started?
Now that you've got your home space sorted and are ready to get started with some online yoga we've got some great options for you!
Check out our Nurturing Yoga and Pilates Video Course - 5 online videos that combine Pilates movements and mobility props like the foam roller and peanut with a Yogic sensibility and a focus on breath and sensory awareness. You can practice these videos individually or combine together for a deluxe workshop style experience. You have to option to stream or download this course in advance so it's perfect if your practice space doesn't have the best wifi.
Or join us for a free live streamed yin yoga - or jump into a Nurturing Yoga and Pilates, Gentle Yoga, Slow Flow Yoga or Strong Flow Yoga interactive zoom class.