Making Aerial Yoga More Accessible
Aerial Yoga is very adaptable for different bodies and different needs. However most of the images we see online are very thin, very flexible women doing intimidating looking circus moves. We rarely see older people, larger people or people with disabilities represented in media stories about aerial yoga and this is something I want to change!
There are teachers across the world, using the aerial hammock in innovative ways to open up new possibilities for movement, relaxation and play. While these classes may not look like traditional yoga, the aerial hammock can be an alternative way to access the mental and physical benefits of this wonderful practice.
What is Aerial Yoga?
In aerial yoga we use an aerial silk (which is actually a synthetic fabric) suspended from the ceiling to support the body or to challenge stability in different ways. There are some postures, like floating savasana where the participant is fully cocooned in the fabric. We often see images of suspended inversions, where the legs and hips are wrapped in fabric or adaptions of familiar yoga postures like downward facing where the hands are on the ground and the fabric is providing partial support.
There is some historical context of Iyengar using the rope wall to provide similar traction and suspension, but ultimately this is fairly new new practice. If we do want to call it yoga, it is really important to honour the aspects of this practice that go beyond the physical. The aerial hammock really is just a prop - hopefully a tool to help more people access a sense of peace in their minds and bodies, a safe cocoon to cultivate compassion for themselves and others, and ultimately a practice of liberation.
In a lot of ways aerial yoga is similar to chair yoga, since it allows us to adapt the physical form of the postures so that different bodies can access the benefits of the practice in a way that is more adaptable to their individual needs. If someone wasn't able to get down to the floor, this can be a way of bringing the floor up to them, and since the fabric is moving rather than fixed it can be safe way to explore balance and stability while still feeling supported.
Just as we see a lot of photos of dramatic arm balances and impressive/intimidating splits and balances when we google yoga - most of the aerial yoga imagery we see is more of the circus style movements. But I have found the quieter and more meditative postures tend to be the ones with most profound affects.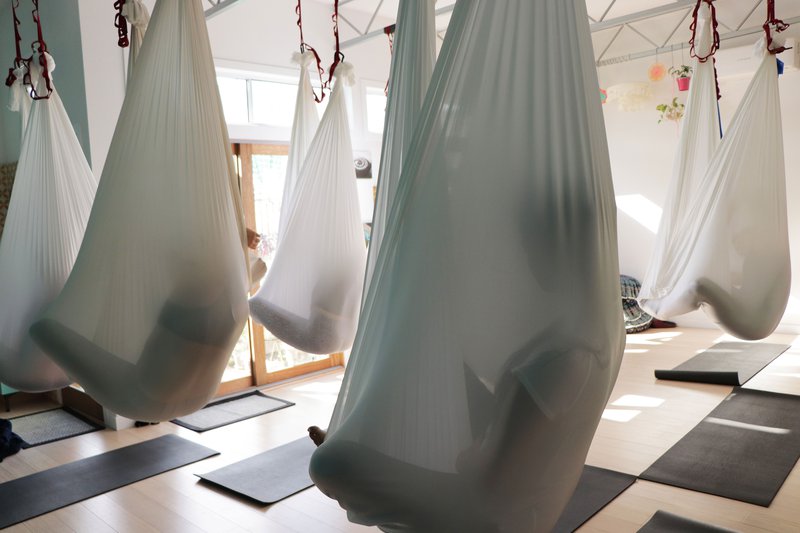 Aerial Yoga can provide a safe space to be with yourself
One aspect of aerial yoga that is really powerful, is the sensory input of the fabric itself. Interoceptive practices can be really intense for people with a trauma history or mental health issues, and being in the fabric can provide a way of being present that feels safer.
One of our regular attendees expressed it beautifully:
'Being in the hammock felt comfortable, safe and relaxing. but what was most important for me, it felt fun and different, which made it enough of a distraction to be able to do the class.
It makes yoga accessible for me. I can't do floor based yoga at all, I'm too aware of my body, how it feels and how it looks and I get too distressed. I've tried trauma-informed yoga and while that was better and I felt supported, it didn't make it any more tolerable to be in my body. Aerial yoga is the first yoga that has felt enjoyable, or even tolerable for me since I was a teenager.
There have been so many emotional benefits. It has been a way to safely and slowly reconnect with my body. I find that it clears my head and helps with my anxiety too.'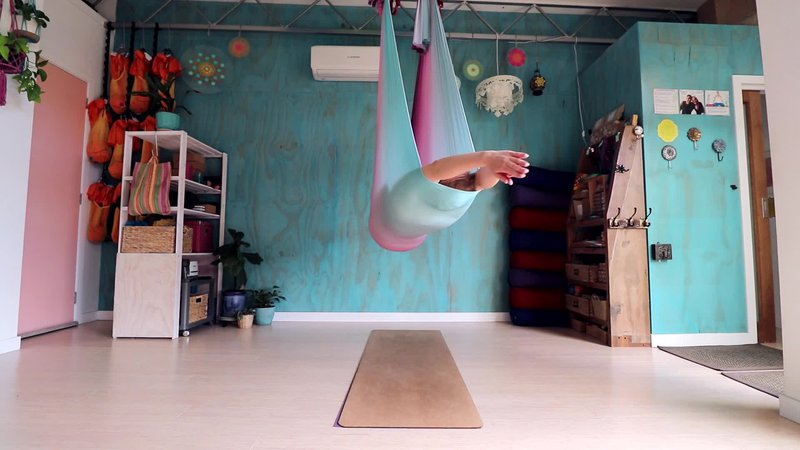 Aerial Yoga as an embodiment practice
Since the fabric gives us such interesting sensory input, it can be a powerful to help enhance peoples connections to their own bodies and to cultivate self understanding, compassion and love. Wherever possible try to use functional cues (how does it feel?) rather than aesthetic cues (how does it look?) with lots of options to check in and allow people to respond to what they feel in that moment.
I also try to sequence from a foundation pose that is accessible to everyone in the room, and then use sensory cues to give people agency to choose their next option from there. For example if we were working with a standing balancing pose the first option could be both feet on the ground holding the fabric in both hands, the next option could be lifting the one leg, the next option could be lifting the arms so that fabric is no longer carrying any load.
Accessible Aerial Yoga around the world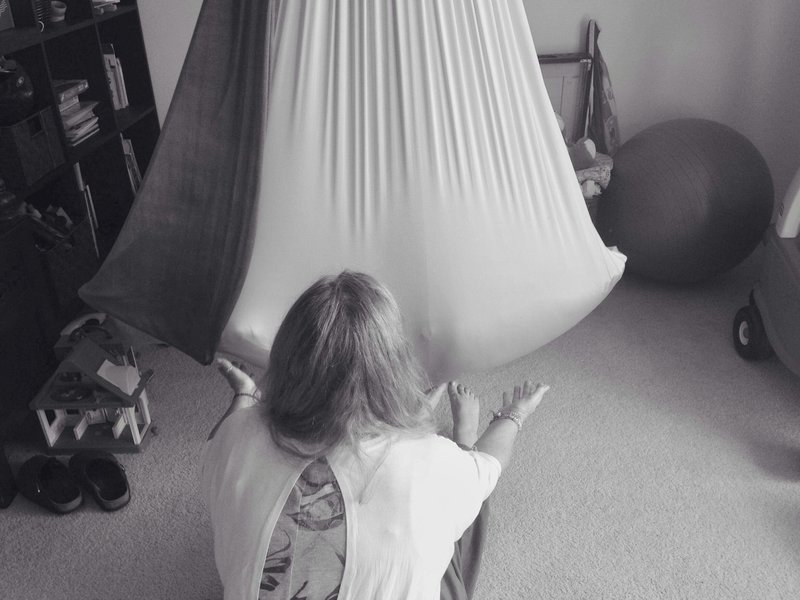 Image provided by Kristin Mathiassen
BendABLE Accessible Mindful Movement
Kristin Mathiassen
Tasmania Australia
Kristin Mathiassen teaches with the philosophy that Yoga and mindful movement are options for EVERY body. Her classes include small groups and individuals, ranging from adults with severe disabilities and children with additional needs. Her classes are are very inclusive, including using key word signs and picture communication PODD for people with hearing issues.
She was introduced to the aerial hammock by a friend following chemo & radiation.
'I found a great sense of calm and relief being held inside the hammock,my body felt soft,
at ease and gave me moments to just let my body open and fall, at least that's how it felt.
My son has Down Syndrome and retreats to the hammock often, I think it has become his safe space.'
Aerial Yoga for Cerebral Palsy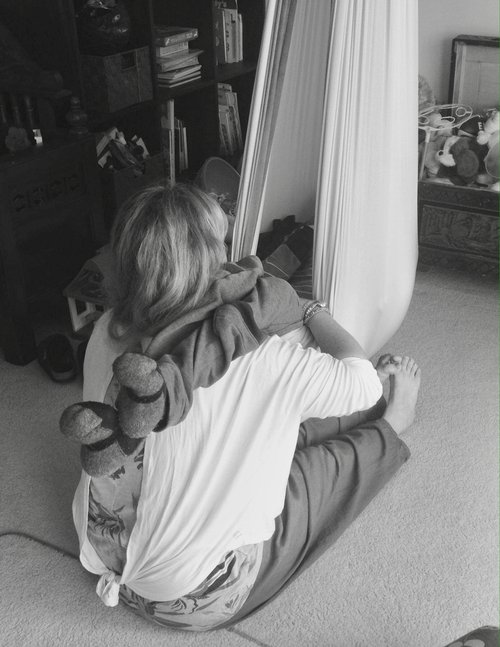 Image provided by Kristin Mathiassen
Working with the hammock allows for more therapy based movement options, as the participant has comfortable support.
'When I work with a client with Cerebral Palsy their body can be supported by the hammock whilst I work on legs, feet, hips, or simply massage or tap the head, face and feet.
For clients like Al here in the pictures,it's a chance for him to be out of his chair, relieving him of the pressures on his body being generally in a seated limiting position most of the day.
It helps release the joints, relax his body, give his organs space, he often unfolds his body opens his hands and becomes long.
I also find the hammock useful when using the peanut and exercise balls. I often turn Al onto his stomach and place him over the ball, the hammock supports and makes it easier for me to work with his body. Using singing bowls and steel drums onto the exercise ball can also create awesome vibration and sound up through the ball.'
Aerial Yoga for Autism
'The hammock also provides some awesome options when working with kids on the Autism Spectrum. I find just the feeling of safe supportive space can allow clients a space to self regulate and calm. Often with Autistic clients it's just gentle rocking in the hammock and sound with minimal Postures.'
How to find out more about Kristin's work
BendABLE Accessible Mindful Movement.
Kristin will be presenting her work, including Aerial Hammock at the Conference for Alternative Communication in Hobart in September. She has also been designing Yoga Programs with a local Speech therapist to create classes for hearing impaired.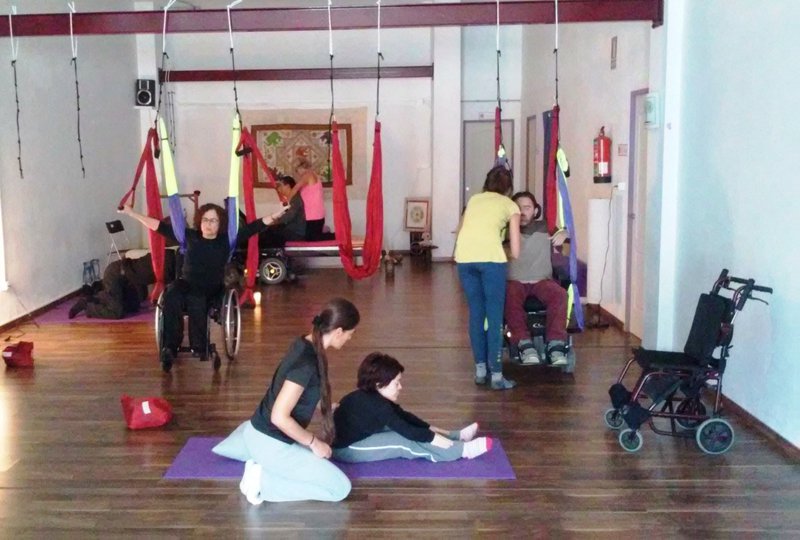 Image provided by Arunai Yoga
Arunai Yoga
Laura Piquer Mateo
Valencia Spain
Laura uses Aerial Hammocks to assist people in wheelchairs or who have limited mobility, as well as children with special needs like autism. She started using the aerial hammocks (which she refers to as swings) in 2013 when she started teaching Accessible Yoga as the classroom was equipped with them and they soon became favourite part of the class and therapeutic tool.
Aerial Yoga allows people to experience movement on different planes, including savasana suspended in the air or inverted postures and provide opportunities to experience different ways of feeling the body and movements that they cannot do for themselves.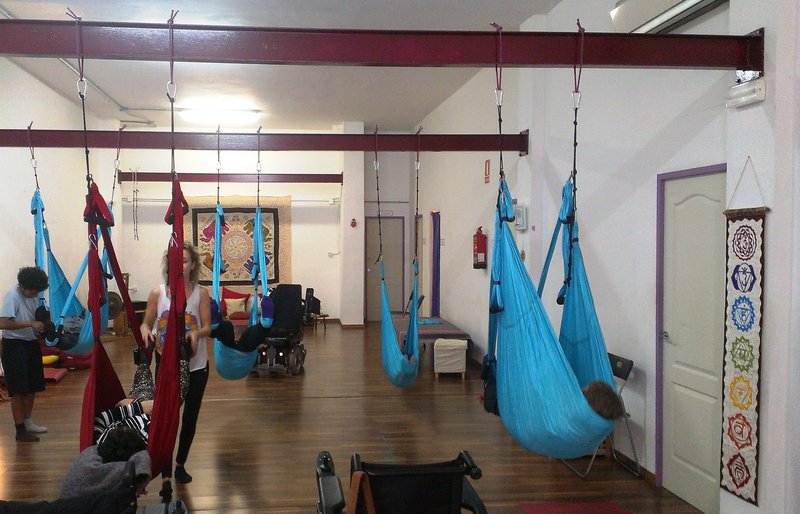 Image provided by Arunai Yoga
The Benefits of Accessible Aerial Yoga
'The benefits it can bring to people with disabilities are many: help them to improve back pain, reactivate the circulation of the not moving parts, strengthen the respiratory system that most people in wheelchairs have affected, to increase proprioception and to regenerate and strengthen the musculature in general and the joints facilitating the elimination of toxicity of the body through the lymphatic system.
The inverted postures in addition to the flexion postures favour the relaxation of the nervous system and reduce the stress that can produce the particular situation of each person who come to class. People who come to class with very limiting medical diagnoses and discover that they are capable of many things that there are forgotten or not felt capable and that improves self-esteem, creates security and personal empowerment and encourages them to practice new things.
I use them as a way to reintroduce the cross-march action of the body as rhythm is something that is lost when you are not mobile and it is very important to be able to feel and integrate it again.'
How to find out more about Laura's work
I am preparing a yoga training adapted with aerial yoga swings for teachers.
You can follow my work on Instagram : Arunai yoga, or on Arunai Yoga adaptado in youtube.
How to find the studio that is right for you
Just as with regular yoga, there is a wide range of different teachers and different styles and not everyone will feel comfortable or supported in every class (especially if it is a large group class). Often the types of photographs that people share on their website and social media will give a good idea of their class style, but I would recommend getting in touch with a phone call or email if you working with any specific health conditions, or require a more supportive environment.
Unfortunately our studio here at Garden of Yoga has a narrow walkway and stairs so we are not wheelchair accessible, but beyond those limitations, we do our best to be as welcoming and inclusive as possible and are always open to questions.
Our facebook group: Making Aerial Yoga More Accessible is open to teachers and students who would like to learn more, ask questions and share insights and grow a global community.
Further Training for Teachers:
Most aerial yoga trainings will not equip you to teach aerial yoga to specialised populations including people working with mental health or mobility issues. If you are already teaching and would like to learn more about working with diverse populations, or need a safe space to ask questions we do offer a mentoring and support program for teachers
For teachers who are looking for professional development in these areas, we recommend: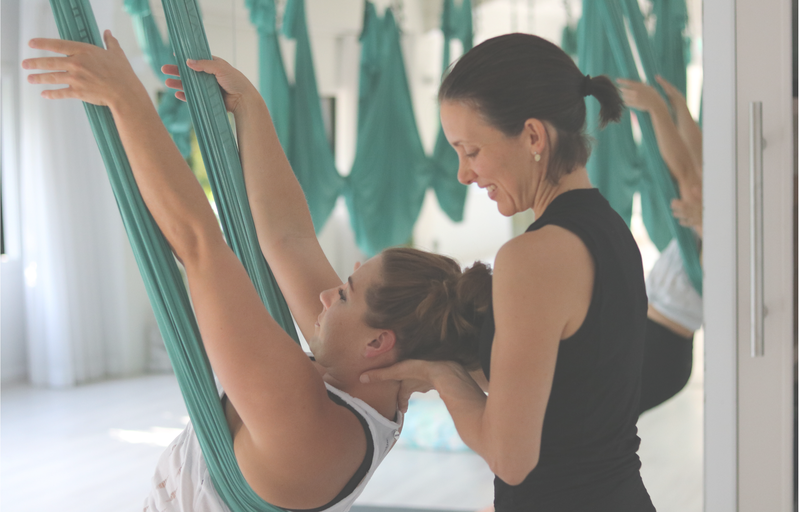 Image courtesy of Renae Stevens
Aerial Yoga Therapeutics
Renae Stevens
Brisbane Australia
Renae is a certified yoga therapist, yoga teacher, Franklin Method Educator, a senior trainer for Antigravity and holds her master's degree in art therapy.
She has developed an in depth training - Aerial Yoga Therapeutics, which draws from all of these disciplines and her many years of teaching yoga, aerial yoga and rehabilitation focused pilates.
Aerial Yoga Therapeutics utilises the aerial hammock apparatus to facilitate therapeutic movement that aligns with progressive exercise-based rehabilitation and trauma-informed practice.
The aerial hammock is a sensory medium that enhances neural integration and offers the restorative benefits of zero-compression inversions, incorporating joint and viscera decompression while developing 3-dimensional spatial awareness. It holds a unique ability to induce the relaxation response by releasing respiratory constriction and providing somatic experiences of being supported, rocked and 'cradled' that rebuild a sense of trust in one's body, relationship and environment.
The therapeutic benefits of this body-orientated intervention are quickly being adapted into innovative clinical exercise based physiotherapy, rehabilitation practices and mental health settings to address a range of conditions and enhance recovery, empowerment and well-being.
You can listen to our conversation with Renae on The Flow Artists Podcast here.
You can learn more about Aerial Therapeutics Training here.
Further Training:
The following trainings are not specifically aerial yoga, but I've found the insights I've learned to be really helpful in accomodating diverse needs in my classes, as well as continuing to explore the philosophy of yoga in my teaching and life.
Accessible Yoga Teaching Website
Wonderful for integrating the philosophy of yoga into a modern context of social justice. Presented by a diverse group of Accessible Yoga experts from different backgrounds. This training covers designing yoga classes where all students can practice together regardless of age, size, ability, or experience, as well as thoughtful language and the financial aspects of accessibility.
Trauma Informed and Community Teaching with Yoga for Humankind Website
This training is designed for existing yoga teachers wishing to gain foundational theory and skills for teaching trauma-informed yoga with various community groups and settings, and for health and community professionals wishing to incorporate yoga and movement practices into their existing therapeutic skills.
There are lots of opportunities for group work, self study and self resourcing practices to assist with the integration of the more academic information and questions of social justice. There is also a focus on creating community programs and working with other health organisations and government services.
LV Chair Yoga Teacher Training Website
Training is open to Yoga teachers, fitness and health professionals, community or disability workers, family members, care givers - or anyone who would like to support others using the tools and techniques of Yoga - in a safe and accessible way on the Chair. There is a lot of opportunity for teaching practice, and practical strategies for adapting traditional yoga postures for different bodies and different needs. Thoughtful use of language and sequencing are a big part of this training and you receive ongoing support and community after the training ends.