Props Policy
The easiest way to ensure you have the props you like to use in class is to bring your own.
We have been thinking long and hard about how to make our studio as COVID safe as possible without diminishing your enjoyment and prop options while practicing here!
We will no longer be sharing equipment that cannot be easily disinfected between classes - this includes blankets, eye pillows, bolsters, peanuts and therabands.
The best way to ensure you have the props you like to use in class is to buy your own and bring them with you. We will also be adjusting our teaching and giving options based on the props available.
Please bring your mat and block, pillow, blanket. theraband/strap and peanut to each mat based session.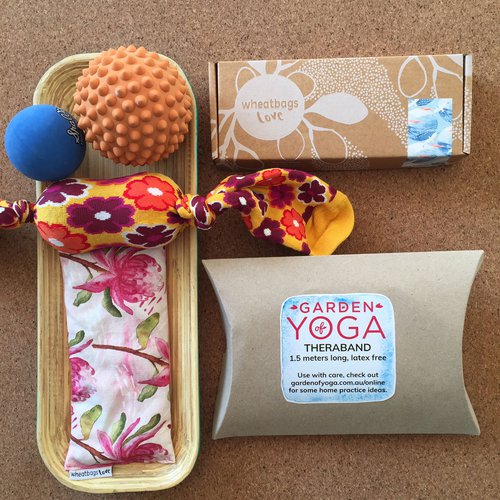 We now offer a range of small props for sale in the studio, which means you can also use them in your home practice:
Therabands: $15
Eye pillows: $25
Peanuts: $12
Single balls: $4
Bolster covers: $25
We also sell cute hand crochet water bottle holders for $25 which are a great size to hold these smaller items.
Bolsters
We realise it just isn't practical to bring a bolster to class, especially if you are catching public transport or riding a bike. With this in mind we are now selling bolster covers for $25 which you can use to cover one of our studio bolsters in class. They are a great size to pack all your other yoga gear into.
Mats
Due to the close contact we all have with our yoga mats we request you bring your own mat to each session. If you forget, we will be charging a $5 hire and cleaning fee to use a studio mat - when we lend a mat we don't just clean and disinfect it, we also store it out of use for 3 days just in case. We don't have space to do this for many mats at a time, hiring out a studio mat is a last resort option for us.
Aerial Hammocks
Members and month pass owners have their own designated hammocks. Shared hammocks will be rested for 72 hours between uses and sprayed with an 80% alcohol based sanitiser.
Members and Month Pass Holders
Part of the benefits of your pass is that you will have your own designated aerial hammock, block, and mat (if you need one) named and stored separately. Read more about our membership options here.