About Antigravity Aerial Yoga
Jo relates her experiences with Aerial Yoga and why she loves it so much.
My Personal Experience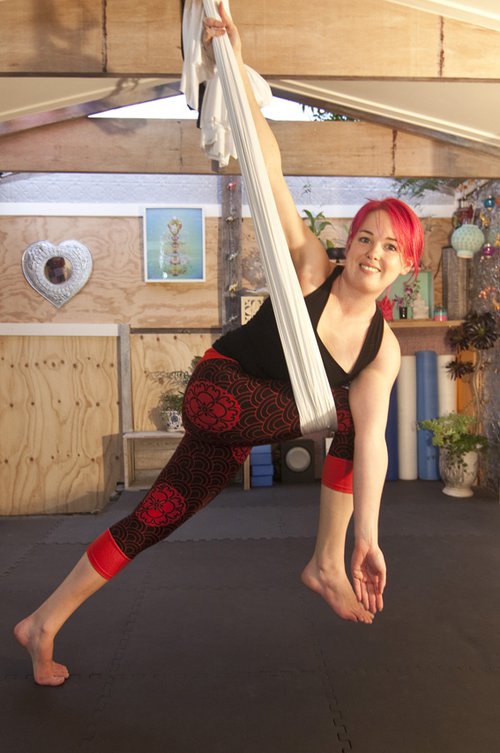 I'll never grow tired of practicing on the mat, but when I first tried Antigravity Aerial yoga it took everything I love about yoga to a whole new level. And it was so much fun!
I love to flow between postures, and in the hammock this was possible in a new way that felt graceful, fluid, and powerfully strengthening. I have a creative brain that likes to dart around, yet suspended in the air, my focus was centred in the present moment, but I was still free to play and explore.
Aerial yoga was such an amazing sensory experience that I wanted to keep practicing. Back then in 2011 there were no aerial yoga schools in Melbourne so I attended the first teacher-training course run in Australia and became a teacher, and opened my own studio.
At Garden of Yoga I teach a mixture of vinyasa, pilates and antigravity classes, and there's a special energy in aerial yoga classes. The hammock invites people to open up physically and gives them space to play and surprise themselves, while still practicing in a safe, systematic manner. Many of my students came to me with long-term injuries, and it's a privilege to see them enjoy movement again.
The Origins of Antigravity Yoga
Antigravity Aerial yoga was developed by Christopher Harrison, who drew inspiration from yoga, dance, pilates, calisthenics and aerial arts. The fabric of the hammock is used like a soft trapeze and allows you to invert your body in a safe, supported way, decompressing joints, enhancing core strength and stability, and building strength and flexibility in a fun playful way.
We get the chance to move freely, because we have to support of the fabric. We can deeply relax in it, or fly through the air. It's possible to find new openings in familiar postures like downwards facing dog, and casually backflip between warrior poses. We get to transcend some of our usual physical limitations (like needing to touch the ground) and feel like kids again!
Freedom and Support in the Hammock
The beauty of this modality is how accessible many of these postures are to people of all sizes, ages and levels of experience. The hammock is much more supportive and forgiving than the floor, as it can carry our weight. The resulting sensation of weightlessness can have a powerful effect on self-esteem, kinaesthetic awareness and emotional wellbeing – especially if movement is limited or painful outside of the hammock.
Even for experienced yogis, the aerial hammock opens up new possibilities. Postures like handstand, which usually require a lot of strength and practice, are instantly accessible once we have the hammock's support. We have time to hone our alignment and build awareness and strength in a safe, controlled way as we waver from balance and re-stabilise without falling. And of course, this newfound awareness and strength translates back into the traditional variations of each asana. Renae Stevens, an Antigravity Master Teacher who has a background in physiotherapy, explains this further in her testimonial.
The support of the fabric allows us to invert without putting any pressure on the neck, wrists or shoulders, which provides a number of benefits. On a physical level, gravity allows lymph fluids that tend to settle in the lower parts of body during the day to refresh, which can have a flow-on immunity benefit. The brain also benefits from an extra flow of oxygenated blood, which can help with clear thinking and endocrine function. The spine feels decompressed, tight muscles get the chance to relax and intervertebral discs can rehydrate.
Nurture Yourself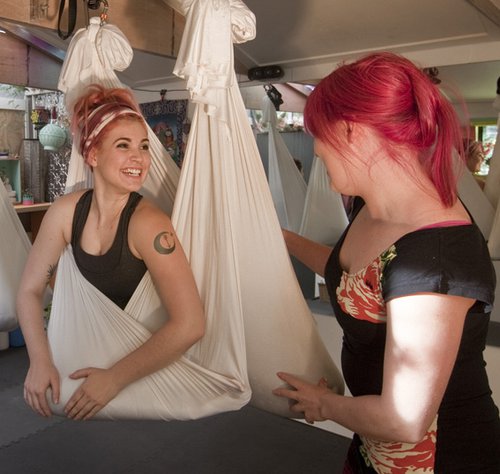 There are times where inversions are contraindicated. Always tell your teacher of any current or past health so that can give appropriate alternatives for some of the postures. You might also find it beneficial to attend a private session or two, especially when working with injury.
Being still in the fabric is also powerful – especially for people who have trouble focusing, meditating or allowing their minds to rest in daily life. The feeling of being cocooned within the fabric fosters pratyahara, or sense withdrawal. The mind is enabled to rest while the body is held comfortably.
Meditation within movement is also possible. Often the gentle flowing action of the more restorative postures provides enough sensation to keep the mind present as the body settles into deep relaxation.
Inherent within the practice of yoga is the philosophy of ahimsa (nonviolence). Physically, this takes the form of honouring your body's limitations and abilities. In class it means always keeping the instructor informed of pre-existing injuries or soreness, never pushing yourself into pain and always asking if you need clarification or a different variation or time to rest. Mentally, this means releasing yourself under undue pressure, letting go of negative thought patterns or self-criticism and celebrating the uniqueness of who you are. When we practice these qualities in
the hammock, it sets us up to reflect them outwardly, to live more peacefully and productively, and to make better decisions as we move through the world.