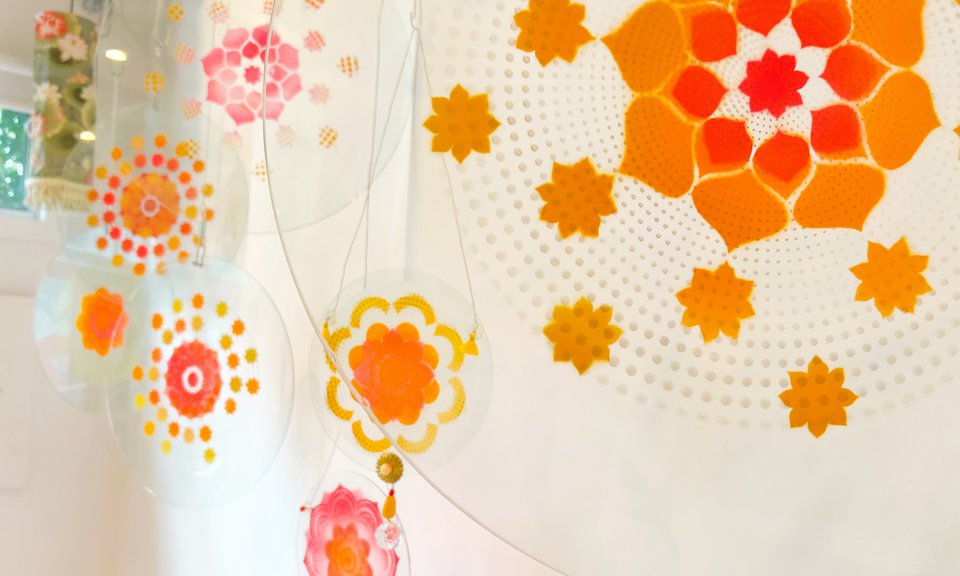 Handmade Glass Mandalas
$120.00 AUD
Large Mandala $120 (diameter 51cm)
Smaller Embellished Mandala $150 (diameter 25cm)
Hanging equipment by request
I've been inspired by rituals of many cultural traditions, and the natural mandalas created by Mother Nature and have used these symbols in my own art, which is created in a contemporary urban setting.
I personally find the mandala making process to be centering and uplifting, and a way into creative flow and meditation. I choose to make my mandalas like nature, embracing the slight variations along the way rather than trying to force a 'perfect' form.
This approach intersects well with the process of stencil art, where you can use a set form to create increasingly intricate layers of pattern and colour over time, but using the medium of spray paint means that there is always an element of chance in the mix!
I have also used recycled materials where possible, the glass bases for the mandalas are parts from old industrial lights, and I have also repurposed old chandelier parts, hardware and vintage jewellery.
These mandalas have been created to help cultivate good vibes in your home or meditation space - please let me know if there is a particular energy you would like to invite in and I can help you choose.
You can read more about the history of mandala making here
Please note each Mandala is unique and our range is changing all of the time, they are also not suitable for postage.
The best way to choose is to email Jo to make a time to visit our studio in person.